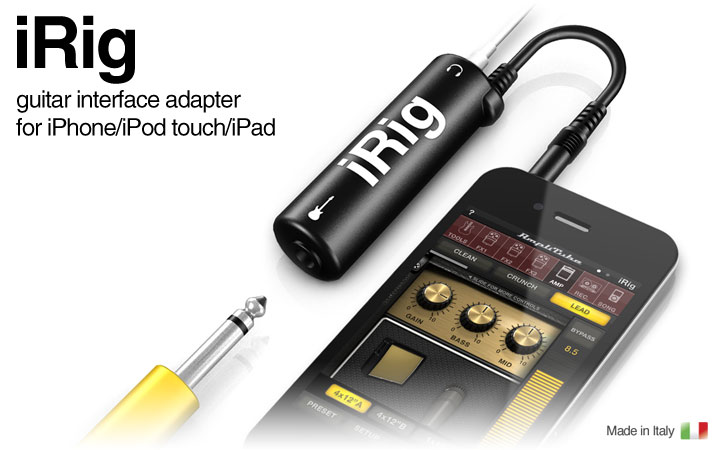 Jam Anywhere
with World-Class Guitar & Bass Tone
Turn your iPhone, iPod touch, iPad
into the ultimate mobile Guitar and Bass Sound Studio
Imagine carrying your entire guitar or bass rig around in your pocket. When we say entire, we mean tuner, pedalboard, amp head, cabinet, microphone AND 4 track recorder. That's a lot to fit into your pocket, but now you can thanks to AmpliTube iRig.
Plug In - iRig - High Quality Guitar Interface for iOS Devices
The iRig is a revolutionary product that allows you to connect your guitar/bass to your iOS device. From there, your signal travels through the wonderful world of AmpliTube iOS software to give your guitar sound life and meaning. To use the iRig, you simply plug the 3.5mm TRRS end into the headphone jack of your iOS device. Then plug your guitar into the 1/4" jack using a standard guitar cable. To monitor your sound, plug your headphones/line out into the 3.5 mm headphone jack on the iRig. That's all there is to it. Now you're ready to Jam.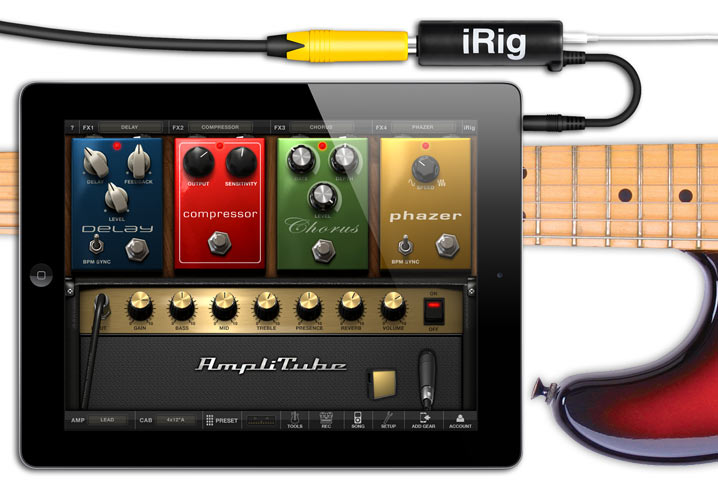 AmpliTube iOS - Amazing Guitar Tone, right there in your pocket!
AmpliTube iRig comes with the AmpliTube FREE* iOS app, a full-featured guitar and bass tone powerhouse app featuring some of the most popular and famous guitar amp sounds on the planet. You can plug in and instantly get a fantastic guitar sound utilizing our factory presets, or create a "tone of your own."

You'll have at your fingertips the sound and control up to 4 recombinable simultaneous stompbox effects + amplifier + cabinet + microphone just like a traditional guitar or bass stage rig! Plus, you get all kinds of cool extras like a riff learner, music player and recording studio.
Add amps and effects as you need them - you can expand your rig with up to 17 stomps, 5 Vocal Stomps, 10 amps, 10 cabinets and 2 microphones via in-app purchase from the AmpliTube iRig Custom Shop.
---
iRig at a glance:
Guitar & instrument interface adapter for iPhone/iPod touch/iPad
Instrument interface adapter + guitar and bass tone mobile software
Works on iPhone/iPod touch/iPad
Compact 1/4" female input jack to 1/8" female output jack audio interface adapter
Headphone/Amp/Powered Speaker OUT
Connect electric guitar and bass
Includes AmpliTube FREE for iPhone or iPad (free download on iTunes App Store)
Real time guitar and bass multiFX, recording, practicing app
---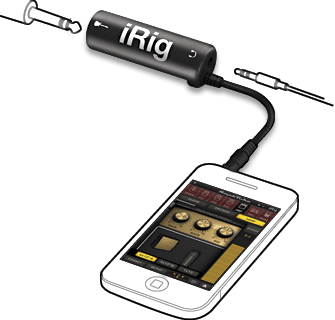 iRig - Plug in and play simplicity
The new iRig interface adapter is the easiest way to get your instrument's signal into iPhone/iPod touch/iPad. It features a standard 1/4" instrument jack, a standard 1/8" (3.5mm) headphone out jack, and the iOS standard 1/8" TRRS jack for input on your iOS device. All you have to do is make your connections, then launch AmpliTube iOS or your favorite guitar/recording app and you're ready to go. The iRig is the ideal companion not only to the mobile AmpliTube series of apps, but also works with any other recording, processing or tuning app. Plus, you can also use the iRig with line level signal sources such as synthesizers, keyboards or mixers.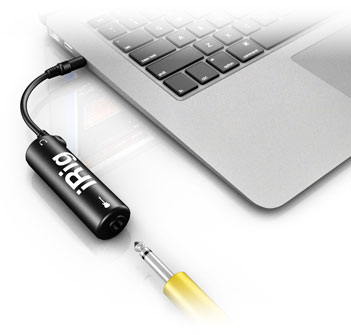 Got a Mac? Get an iRig!
Now for the hidden features… if you have a newer Mac computer, you can use the iRig as an audio interface for it. The newer Mac models feature a headphone jack that act as a headphone/microphone input for headsets. This means that you can also use your iRig with your Mac laptop or desktop machine to take advantage of the higher processing power of your machine and you don't need an additional audio interface to use it. Simply plug the iRig into your headphone jack, plug your headphones/line out into your iRig and you've got a fully functioning audio interface for guitar/bass/keyboards, or any other instrument with a ¼" out. Pretty cool.
AmpliTube and AmpliTube Fender® for iOS
Amazing Tone on your iPhone/iPod touch/iPad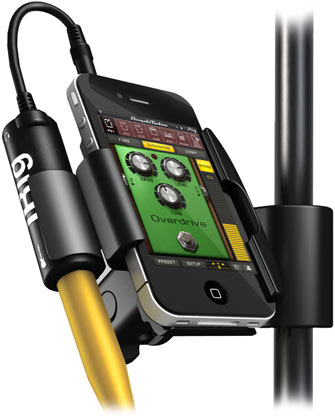 Now for the good stuff. Download the AmpliTube FREE or AmpliTube Fender® FREE app from the iTunes App store. Plug in your guitar and headphones via the iRig and launch the app. Immediately you'll see something very familiar - a complete rig. AmpliTube iOS recreates your entire guitar/bass signal chain in your iPhone/iPod touch/iPad. At the top of the screen, you'll see the "navigation bar" for your rig. This is where you select the "module" to modify.
Play
Click on a stompbox module slot and you can add a stompbox effect to your signal chain. There's a small navigation "list" of available effects directly under the navigation bar. Simply click on an effect name to load it into the slot. Swipe left and right to access all the available stompbox effects in your app. The signal flows from left to right and you can reposition effects in the chain to experiment with different textures and sounds. You get three "stompbox" slots daisy-chained together to add your favorite effects. You can "turn on/off" individual stompboxes simply by clicking the pedal button.
Next up is the Amp section with cabinet and microphone. Simply click that slot, and you can choose with ease different amplifiers from your collection. Changing a speaker cabinet is as simple as touching it on the screen, same goes for the microphone. Tap once to change to the next speaker configuration in the list and demo the sound. Easy, huh? (You can also bypass the Amp module by clicking "Bypass"). You can now use your iOS device for live play or practice without the need for other effects boxes, amps or modelers.
Practice
We've built some pretty cool practice tools into AmpliTube iOS. These tools allow you to:
Play along with your favorite music from your device library
Isolate sections of pre-recorded material and loop them for continuous play
Slow down sections to learn difficult passages
"No Voice" button cancels the center of the mix (where vocals and leads are typically placed) allowing you to sing or play along with the original material.
Record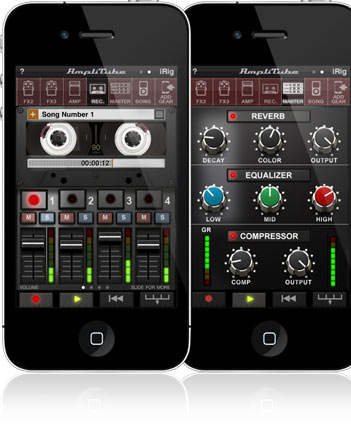 AmpliTube FREE and AmpliTube Fender® FREE come with a built-in single track recorder, expandable to 4 tracks. Immediately you can record your performance, length limited only by your device memory. When you expand the recorded to 4-track recorder with Master Effects (via in-app purchase), you'll have a complete mobile recording solution built right into your device. Create full songs and compositions right on your iOS device, and export them in WAV or MP3 formats to share.
The recorder features our "re-amping" function which allows you to record a riff, then go back and apply a different tone setup to get a completely different sound without having to re-record it. Once you're happy with the sound, click the "apply" button and move to the next track.
The Master Effects section allows you to do a few things, mainly fine-tune your finished recording with EQ and Compression, but also allows you to add ambience and depth to your recordings with a master send reverb feature. Each channel has a "reverb send" slider that allows you to send part or all of the signal to a fully adjustable master reverb section. This gives each track it's own space to occupy in the mix and adds a tremendous amount of life and depth to your song.
Vocalize with VocaLive
We've also added some killer vocal effects to AmpliTube via the in-app purchase feature. These effects come straight from our popular VocaLive app for singers and vocalists and feature a 3-part harmonizer (Choir), Morph (vocal manipulator), Pitch Fix (pitch correction), Doubler and a De-Esser. Use the iRig Mic handheld microphone, the iRig Pre microphone preamp (allows you to use any XLR mic with your iOS device), or your built-in device mic to add vocals and sound effects to your composition.
| | | | | |
| --- | --- | --- | --- | --- |
| | | | | |
| Choir* | Morph* | Pitch Fix* | Double* | De-Esser* |
* available as in-app purchase
Expand
We're adding new models of gear to mix on a regular basis. The in-app purchase feature allows you to expand your AmpliTube app when you want to. You can start with the AmpliTube FREE or AmpliTube Fender FREE app, then add to your collection of gear when you want. Click the "get gear" slot to see a list of available choices.

Apps